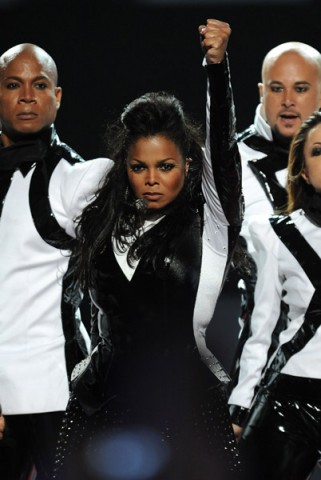 Aseara, la Radio City Hall din New York, s-au decernat premiile Video Music Awards 2009. Si a fost o seara de exceptie, pe de o parte dedicata memoriei Regelui Pop, Michael Jackson, pe de alta impartita intre seara fetelor ( Lady Gaga si Beyonce avand fiecare cate 9 nominalizari) si seara hip-hop (batalia ducandu-se intre Eminem si Kanye West, fiecare cu cate 4 nominalizari). Show-ul fost deschis de catre Madonna care a dorit sa tina un discurs in memoria prietenului ei drag, Michael Jackson. Madonna a spus despre Michael ca a fost un erou, dar si o fiinta umana, si ca, desi un om simplu, Michael a fost un rege. Madge si-a incheiat discursul cu binecunoscuta sintagma "Long live the king". Russell Brand, gazda show-ului de anul acesta a intrat pe scena pe ritmurile piesei "I love rock'n'roll", interpretata in forta de catre Katy Perry. Britney nu a mai jucat rolul de co-prezentatoare in acest an, pentru ca se afla in plin turneu.
Momentul penibil al serii l-a constituit interventia lui Kanye West, care a urcat pe scena in momentul primirii trofeului "Best female video" de catre Taylor Swift si a spus ca Beyonce ar fi trebuit de fapt sa primeasca acel premiu, pentru ca a avut unul dintre cele mai bune clipuri din ultimii ani. In opinia mea gestul sau deplasat vine in totala contradictie cu statutul de "artist adevarat" pe care Kanye pretinde ca il are. Se pare ca intre timp dl Kanye si-a cerut scuze pentru acest fapt. Beyonce insa, a dovedit o mare doza de profesionalism si si-a luat revansa in momentul primirii trofeului mult dorit "Video of the Year", invitand-o din nou in scena pe Taylor, pentru ca aceasta sa-si poata aduce multumirile fata de public.
[youtube]http://www.youtube.com/watch?v=JSKQvTINceE[/youtube]
[youtube]http://www.youtube.com/watch?v=p-Ig38qaUxE[/youtube]
Prima prestatie scenica a serii a constituit-o momentul tribut realizat de catre Janet Jackson in memoria fratelui sau. Au fost recreate scene de dans din clipuri celebre precum "Thriller", "Bad" sau "Smooth criminal", iar Janet a intrat pe scena pe duetul sau cu Michael, "Scream". Artista a avut parte de un dans sincron de exceptie, in timp ce pe plasma se derulau secvente din clip cu Michael.
[youtube]http://www.youtube.com/watch?v=l4Z-1zuquSE[/youtube]
Taylor Swift, ce si-a facut aparitia pe covorul rosu, ca o adevarata printesa intr-o trasura trasa de doi cai, pe nume V si MA, s-a dovedit o adevarata profesionista si a facut fata presiunii intr-o interpretare de senzatie a hitului sau, "You belong with me", cadrul ales fiind statia de metrou de la Radio City Hall.
[youtube]http://www.youtube.com/watch?v=gLiP69qwYEo[/youtube]
Lady Gaga, insotita pe covorul rosu de catre "partenerul ei", personajul de desene animate, Kermit, a avut una dintre interpretarile de exceptie ale serii. Artista si-a construit propria lume originala pentru interpretarea single-ului sau, "Paparazzi". Pe parcursul galei, Lady Gaga nu s-a dezmintit si a avut un look in continua schimbare.
[youtube]http://www.youtube.com/watch?v=j-zM0YaU9N0[/youtube]
Baietii de la Green Day si-au cantat noul single, "East Jesus nowhere", piesa ce face parte de pe cel mai recent album al lor, "21st century decade", iar Billie Joe, liderul trupei, a chemat oamenii din public pe scena, alaturi de ei.
[youtube]http://www.youtube.com/watch?v=KWyBUh-UsKo[/youtube]
Beyonce a aratat ca o adevarata diva si a interpretat, asa cum numai ea stie sa o faca, single-ul de succes, "Single Ladies", sustinuta de o coregrafie de exceptie,
[youtube]http://www.youtube.com/watch?v=VSD7vDwymoA[/youtube]
O alta prestatie scenica de exceptie a fost cea a lui Pink, pentru piesa "Sober". Artista a realizat un minunat numar de echilibristica, dovedindu-si astfel si realele aptitudini fizice.
[youtube]http://www.youtube.com/watch?v=ScIRZruPyXA[/youtube]
Pe parcursul show-ului au fost difuzate si doua trailere ale doua dintre cele mai asteptate filme ale acestui an. Primul dintre ele este noul film din seria Twilight, "New moon", ce va aparea pe 20 octombrie. Cel de-al doilea, filmul care va starni controversa, privind ultimele repetitii ale lui Michael Jackson, "This is it", lansarea mondiala avand loc pe 28 octombrie.
Trailer New Moon @ VMA 2009
[youtube]http://www.youtube.com/watch?v=bVz1Xxr4I8U[/youtube]
Trailer "This is it" @ VMA 2009
[youtube]http://www.youtube.com/watch?v=pJmxHD1jf_8[/youtube]
De asemenea in preview-ul show-ului a fost lansat si videoclipul remake-ului filmului ce a devenit unul din filmele clasice ale anilor '80, "Fame", ce ii va avea in rolurile principale pe Naughton si Collins Pennie.
[youtube]http://www.youtube.com/watch?v=o2wK5RqIwVs[/youtube]
Seara a fost incheiata maiestuos de catre Jay Z si Alicia Keys intr-o interpretare de senzatie pentru single-ul lui Jay, "Empire state of mind".
[youtube]http://www.youtube.com/watch?v=u4tRqf0sMDM&feature=fvw[/youtube]
Iata si lista castigatorilor din acest an a VMA 2009:
Best Female Video: Taylor Swift – "You belong with me"
Best Rock Video : Green Day – "21 Guns"
Best Pop Video : Britney Spears – "Womanizer"
Best Male Video: T.I. feat Rihanna – "Live your life"
Best Hip-Hop Video: Eminem – "We made you"
Best New Artist: Lady Gaga
Video of The Year: Beyonce – "Single ladies"
Best Breakthrough Video: Matt & Kim – "Lessons learned
Best Video That Should Have Won a Moonman: Beastie Boys – "Sabotage"