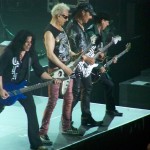 Dupa 45 de ani de cariera, celebra trupa Scorpions, a decis ca "Sting in the Tail" sa fie ultimul lor album.
Albumul va fi lansat in 19 martie 2010. Inca nu se cunosc piesele de pe album, dar heavy metal-ul si hard rock-ul nu vor lipsi.
Turneul "Get Your Sting And Blackout World Tour", dureaza pana in 2012, deci cei care vor dorii sa ii vada, au 2 ani la dispozitie.
No One Like You, Send Me an Angel, Still Loving You, Wind of Change – sunt doar cateva din melodiile lor.
Au avut 17 albume de studio, 3 albume live, 1 acustic si unul in colaborare.
1972 – Lonesome Crow
1974 – Fly to the Rainbow
1975 – In Trance
1976 – Virgin Killer
1977 – Taken by Force
1978 – Tokyo Tapes (Live)
1979 – Lovedrive
1980 – Animal Magnetism
1982 – Blackout
1984 – Love at First Sting
1985 – World Wide Live (Live)
1988 – Savage Amusement
1990 – Crazy World
1993 – Face the Heat
1995 – Live Bites (Live)
1996 – Pure Instinct
1999 – Eye II Eye
2000 – Moment of Glory (impreuna cu orchestra Berlin Philharmonic)
2001 – Acoustica (Acustic)
2004 – Unbreakable
2007 – Humanity: Hour I
2010 – Sting in the Tail