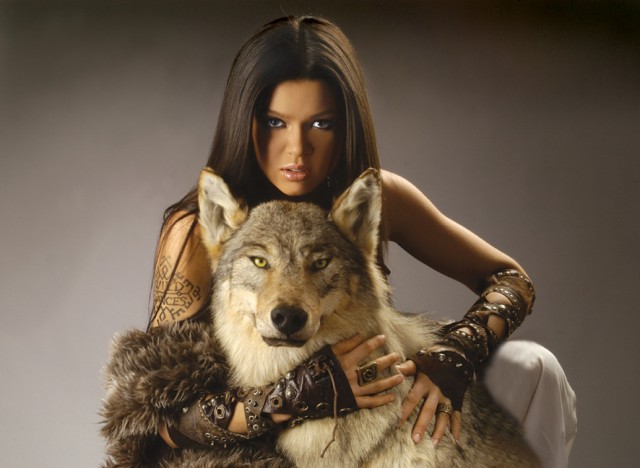 Castigatoare a Festivalului European de muzica – Eurovision, in 2004, Ruslana a devenit in scurt timp una dintre cele mai de succes artiste din zona balcanica. "Wild dances", "The same star" sau "Moon of dreams" sunt doar cateva dintre exemplele de piese, de hituri ce, in timp, i-au crescut popularitatea. Am vorbit cu Ruslana in exclusivitate pentru WebWorks despre muzica ei, Carpati, Eurovision, dar si despre promovarea online. Recunosc ca a fost atat o onoare, cat si o mare placere pentru mine sa realizez acest interviu, pentru ca Ruslana este intr-adevar o artista care ma "inspira":)
1. Hey Ruslana, thank you for giving us this interview. First of all, tell me, what has the winning of Eurovision Contest in 2004 really meant for you? Would you like to participate again in the next years?
It was a new beginning, a new start, not only for me, but also for my country. All my life changed in a moment, it became a superspeed machine with crazy wheels, and I drove it in my own rhythm. I felt the responsibility for the winning I've got. And my every step was to our new victory. I don't want to bind all my life with Eurovision only and I don't have to be on Eurovision stage to get a win again. It can be anything else in my music. And above all it's to be sure of oneself.
[youtube]http://www.youtube.com/watch?v=MEXdwwHWLSU[/youtube]
2. You are known as the voice from the Carpathian mountains. How connected are you to this area?

I was born in the West of Ukraine. My father was born in Carpathian village, and it speaks for itself. My deeply roots gets involved with magic Carpathian history, and of course all this points has exerted on my music.
3. What is the most important thing for you: the originality or the passion?

My wild passion is alive in me, and this is my originality. But I can't be original without my passion.
4. What does it mean for you, as an artist, to be signed with a major record company like Warner Music?
It's a great chance to build success career and to provide artist with ample opportunity. In my case I've got the support of experienced company. But even if I have the possibility to cooperate with Warner, it's only means I must to work better. It means my music must to meet a demand of the world artist.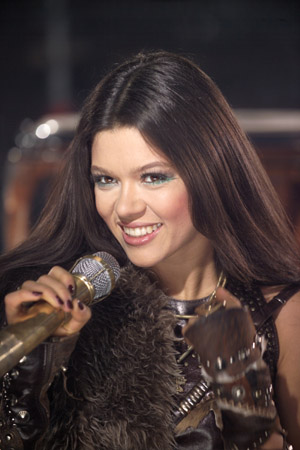 5. Which is your favourite song from your repertoire and why?

It depends on my unsteady mood. Sometimes I like to be romantic, but it's more inherent in me to stay a wild girl. Therefore I'm listening Wild Energy, and I don't want to single out one song because it is whole project integrate in one idea.
[youtube]http://www.youtube.com/watch?v=BzKCE1rx-qc[/youtube]
6. Your shows are full of wild energy. Where does it come from and what do you feel when you are on stage?
When I'm on the stage my real feelings are doubling. The public creates especial infused mood, and I'm kindling with my emotions and wild-wild energy.
7. How did you get to collaborate with T-Pain and Missy Elliott?

During last years I have working on Hit Factory Criteria Studio, where I have met T-Pain once. Our meeting became a start of great cooperation. First of all we created the single Moon of Dreams together. And after the single's recording we decided to make a video. It was two long shooting days in Kiev and Los Angeles. We have worked with the fire, with the water, and with pyrotechnical effects. It was huge mountains decorations with one tone of the ground in the film studio. I know the single was popular in Poland and Czech Republic.
[youtube]http://www.youtube.com/watch?v=h7YOp7eLX9o[/youtube]
The track The Girl That Rules feat Missy Elliott is preparing to be a new video, but I keep the main idea in a secret.
[youtube]http://www.youtube.com/watch?v=V7sRxqTQ2U8[/youtube]
8. You've come to Romania once with the Golden Stag last year. What are now your opinion about our country and music here?
Last year I have performed in Romania many times. «Golden Stag Festival» is one of the most popular music festivals in Europe. I was absolutely surprised by all kind of organization. The sound and the light looked more then well. Certainly the level of the even was a very high, and it was comfortable to work on such activities.
[youtube]http://www.youtube.com/watch?v=s26VETGdrmY[/youtube]
9. What are your plans for the near future?
I'm planning to visit USA and Canada with new concert show in July and August. After the trip I will plan to shoot a new video.
10. You have a very beautiful site, www.ruslana.ua. What do you think about the online promotion of the artists? Have you considered to also make a blog in order to communicate with your fans?
Thank you for your good opinion! You know, I haven't enough time to communicate with my fans in forums and blogs, but I'm meeting them on my concerts with a big pleasant.
11. Share a message for all your Romanian fans!
Be WILD and welcome to Ukraine!
Thank you Ruslana!