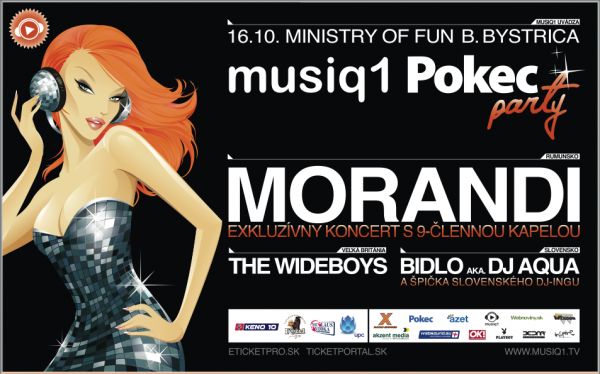 Morandi sunt nominalizati cu melodia "Angels" la categoria "Musiq1 International Song", in cadrul Musiq1 Awards 2009 din Slovacia. Evenimentul se va desfasura pe 15 octombrie 2009 in Banska Bystrica, fiind organizat de televiziunea muzicala Musiq1.Desi in prima runda au concurat cu artisti de talie internationala, baietii de la Morandi au ajuns in finala si se vor intrece cu Green Day– "Know Your Enemy" si The Killers – "Human". Baietii vor sustine un show live la Musiq1 Pokec Party, petrecerea de dupa Musiq1 Awards 2009, desfasurata la data de 16 octombrie, in clubul Ministry Of Fun din Banska Bystrica.
Puteti vota trupa Morandi astfel
:
1. Pentru inceput este necesar sa va inregistrati pe site-ul televiziunii care organizeaza evenimentul, Musiq1.tv. Aceasta operatiune dureaza maxim 2 minute.
2. In continuare trebuie sa va logati si sa intrati in pagina dedicata votului.
3. Bifati "Morandi" la categoriile "Musiq1 International Act", respectiv "Musiq1 International Song" si apasati butonul "Hlasovanie" (Voteaza).
Nota: se poate vota o data la 24 de ore de pe acelasi IP.