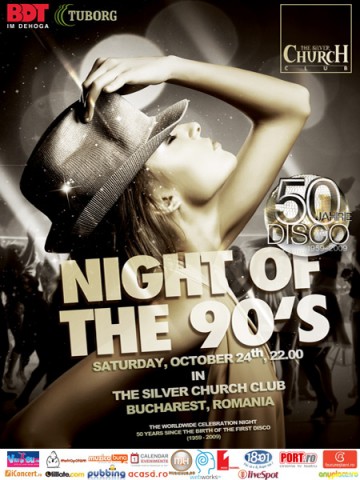 Sambata, 24 Octombrie, 2009 22:00
Eveniment de exceptie
50 years since the birth of the first disco
Jumatate de secol de la Prima discoteca din Lume
Singurul party din România autorizat oficial si promovat de catre BDT im DEHOGA (Asociaţia profesională a discotecilor şi cluburilor din Germania). In această noapte, peste tot în lume se serbează 50 de ani de la prima seară de discoteca.
Pentru toti cei ce doresc sa traiasca sau sa retraiasca o seara autentica de discoteca, The Silver Church Club va recrea atmosfera anilor discurilor de vinil. Nu mai sta si astepta! Imbraca-te Disco, Danseaza Disco, Traieste Disco! Vino in Calea Plevnei nr 61 în spatiul celei mai vechi si longevive discoteci din Romania adopta stilul vestimentar care te caracterizeaza; fie el retro, vintage, anii '70-'90, glamour sau stilul hippie plin de nonconformism si distreaza-te cat pentru 50 de ani.
INTRARE LIBERA